COVID-19 UPDATE: METROPOLITAN HUMAN RELATIONS COMMISSION
In response to the ongoing coronavirus pandemic, the City of Fort Wayne Metropolitan Human Relations Commission offices is open to the pubic. As of September 2, masks are required inside all city of Fort Wayne buildings. At this time, we'd like to limit the amount of people in our building to make sure we are following social distancing protocol. We kindly ask that there only be 1 person per appointment and no guests. If you need an accommodation please talk to our front desk staff. We will continue to process inquiries through our website, via telephone or walk-ins. If you would like to begin the process of filing a charge of discrimination you are encouraged to call our office at (260) 427-1146 or visit our website at http://www.fortwaynemetro.org/contact-us/general-inquiries.html. If you submit an inquiry to the Commission, an Investigator will reach out to you. We appreciate your patience through this difficult time.
Legal Services
Metro has received calls regarding lock-out and utility shut-off reports from tenants seeking legal help. If you believe you have been discriminated against Metro can assist you in filing a Fair Housing complaint. If you are in need of legal services regarding tenant rights (legal representation), please use this resource list put together by our partners to better assist you. Find the list in Spanish here. Find the list in Burmese here.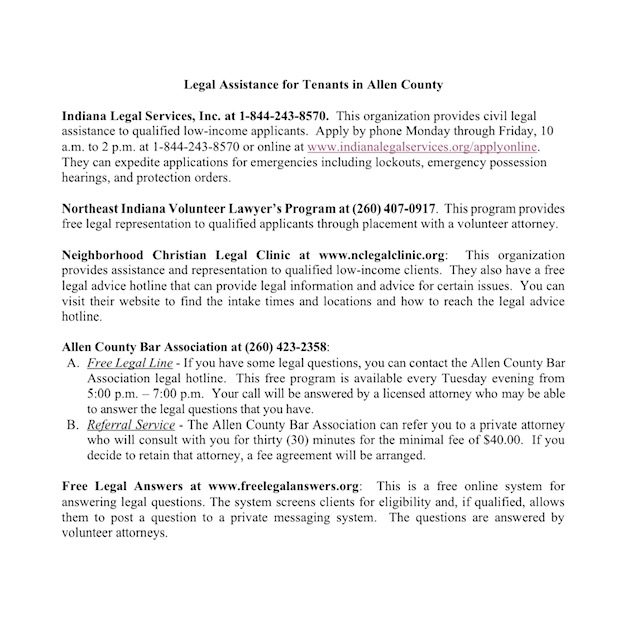 Fair Housing Protections & the Covid-19 Fact Sheet
In response to the Covid-19 pandemic, the Commission is working to better understand and address any fair housing impacts of this public health emergency. We hope the fact sheet below is helpful to renters, home owners, housing providers, social service providers, and other community organizations, as we all work to address the pandemic.
Vivienda Justa Y La Epidemia Mundial COVID-19
La Comisión Metropolitana de Relaciones Humanas está trabajando para comprender mejor y abordar cualquier impacto de vivienda justa de esta emergencia de salud pública en respuesta a la epidemia COVID-19. Esperamos que la siguiente hoja informativa sea útil para inquilinos, propietarios de viviendas, proveedores de viviendas, proveedores de servicios sociales y otras organizaciones comunitarias, ya que todos trabajamos para abordar la pandemia.
The EEOC's updated Pandemic Preparedness document addresses FAQs on workplace pandemic planning, including COVID-19, as it relates to the ADA.The EEOC's updated Pandemic Preparedness document addresses FAQs on workplace pandemic planning, including COVID-19, as it relates to the ADA.

https://www.eeoc.gov/facts/pandemic_flu.html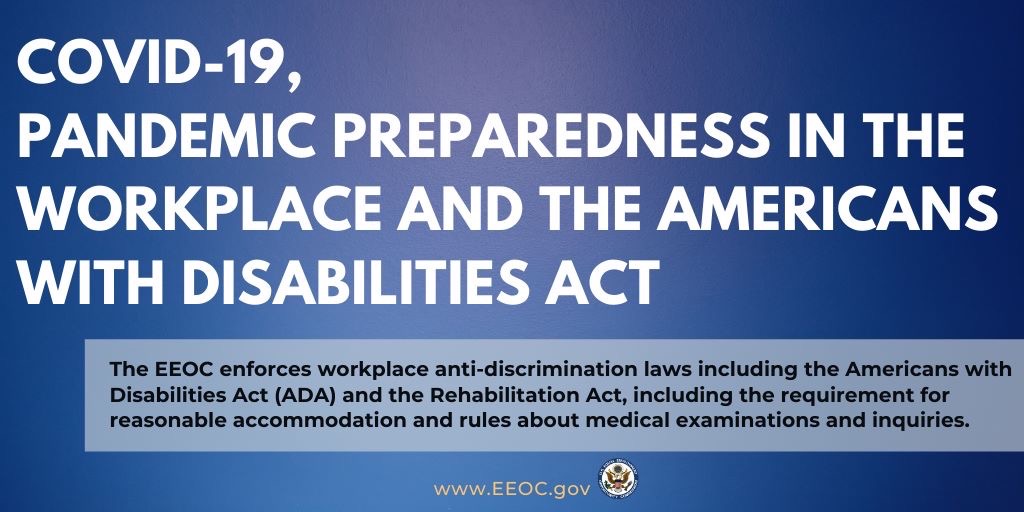 People experiencing homelessness often have a higher risk of exposure to infectious diseases. HUD guidance for homeless service providers offers information on preventing and treating these diseases and resources to access local health care centers.
https://www.hud.gov/coronavirus